Traxsource Downloader for
The easiest way to download your music from Traxsource.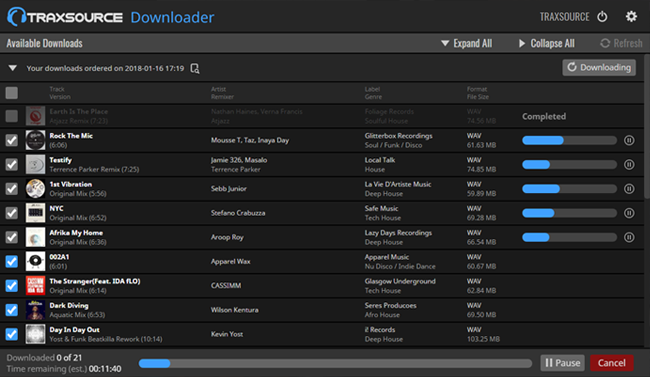 Innovation is at the heart of what we do at Traxsource, and we're continually striving to improve our services and interfaces, to make for the best possible experience for our users. With that in mind, we're very pleased to present our latest development - our brand new Traxsource Downloader application. The latest version, v2.0, no longer relies on Adobe Flash or Adobe Air, making for a simpler and more reliable user experience.
The Traxsource Downloader is the easiest way to download your music from Traxsource. This will simplify the process of getting your Traxsource music onto your computer and provide you with powerful tools to help you organize your music library.
Top features include:
Faster downloads than ever before, with up to 5 tracks downloading simultaneously.
One Click Downloads all your orders.
View Status for each download.
Choose your default download location.
Choose your folder structure.
Choose your file naming preferences.